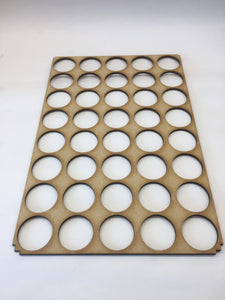 Miniature storage tray 30mm circle insert
For European Customers: 
Due to new Tax regulations brought in for the EU, it will be more cost effective for EU customers to order via our Etsy shop for all orders UNDER 150 Euros as we are not IOSS registered.
https://www.etsy.com/uk/shop/Customisedgaming?ref=simple-shop-header-name&listing_id=638324659
Miniature storage tray 30mm circular bases insert
This is for one tray insert with 40 x 30mm circular cut outs. Suitable for Miniatures with 30mm bases.
The insert measures 283x189mm
Our range of miniature storage trays are designed to hold your collections of miniatures of various sizes in a convenient,efficient and practical storage solution.
Each tray measures 196mm x 296mm and therefore takes up less area than an A4 page.
The tray comes flat packed and will need to be assembled using PVA wood glue. This is an easy process that takes a few minutes per tray.
Each tray comes with a clear acrylic insert for one end of the tray so that you can see which miniature collection you have inside.
Eacg tray in this range will stack onto any other tray. so you do not need a seperate lid for each tray. One lid for the top of a stack of trays is sufficient, although you may want 1 or 2 spare lids if you have a rather large miniature collection as this will allow you to select th etrays you need to take with you and still have a lid to cover the miniatures you leave behind.
We have a range of inserts available that have cut outs for various bases that your miniatures may have. These inserts will fit into any of the trays in this range. This means your miniatures can be held upright while in storage and when moved normally.
We even offer a custom tray service, should you have a bespoke layout.
Additionally we sell magnetic sheets that can be placed into the base of the tray so that you can add additional protection levels for your miniatures. Like some of our other wooden storage boxes, you can glue washers to the base of your miniatures so that they magnetise to the sheet and sit in the insert, thereby offering additional protection and also weighting your models down for regular game play.
Should you have large vehicles or various sizes or some other ravious sizes that you need to store in a tray, you can use the magnetic sheet without an insert and use washers on the underside of your models to hold them in place.
The height measurement in the description is the amount of height available to store miniatures e.g. the distance from the tray base to the height that the next box or lid will be.
The actual height of the tray is 8mm taller than the discribed measurement as that takes into account for the base board and the overlap underneath that would fit onto the next box. For example the 25mm box can hold miniatures upto 25mm tall but the overall height of the tray is 33mm.
Please note:
The magnetic sheets work very well at adding stability to your miniatures when in storage but are not designed to hold miniatures secure during rough handling or upside down. Magnetic trays have to strike a balance between grip and practicality. If the megnetic force is too great you can damage the miniatures when taking them out. In testing we found that miniatures could often be pulled off of their bases or weapons and arms would be pulled off if the magnetic force was too great when pulling the miniature off of the magnetic base (especially with delicate, small parts of miniatures)